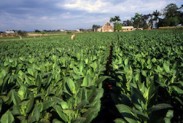 Top Tobacco Picks for 2017
No matter if your style is packing a bowl into a hand carved pipe at the end of a long day, smoking hookah with friends, or sparking up a stogie on the golf course, these are the top tobacco's you need to be on the lookout for this year.
Cornell & Diehl – Speakeasy Navy Blend (Cellar Series) Pipe tobacco
For the past 25 years Cornell & Diehl has been a mainstay in quality tobacco shops throughout the U.S.; and for good reason. With a focus on quality, the company consistently turns out some of the best pipe tobacco blends on the market, and Speakeasy is no different. While this tobacco is designed to be aged, it is still remarkably good even when smoked fresh. The smoke has subtle rum and molasses taste to it, yet it does not overpower the natural tobacco flavors. The tobacco does not require any drying time, and one can only assume this blend will only get better with age.
Hearth and Home Butternut Burley Pipe tobacco
What a flavor! This is a tobacco that can easily be enjoyed by newcomer and veteran smoker alike. The smooth smoke has an impeccable vanilla taste, but does not overpower the fine nutty Kentucky burley flavor. This tobacco should not require much (if any) relighting, making it a great pick for folks that are new to the world of pipe smoking. There is no bitter aftertaste left in your mouth after smoking, and the smoke leaves a pleasant sweet scent in the room once the bowl is done.
Peter Stokkebye Norwegian Shag
There are few names that are better known in the roll-your-own cigarette industry than Peter Stokkebye. Since 1882 this company has been churning out quality tobaccos, and the Norwegian Shag blend has been a crowd pleaser for many years. The blend consists of mainly Virginia tobacco, with just the right amount of Kentucky burley and Turkish tobacco's to make for a very flavorful and pleasant smoke. Flavors of nuts and chocolate abound in the smoke, and it is mild enough to smoke even without adding a filter. While this tobacco is often marketed as a dual use tobacco for cigarettes or pipes, the general consensus is that the flavor is much better when rolled.
Trifecta Tobacco Lavender Mint Shisha
Relatively new to the market, Trifecta Tobacco is quickly making a name for itself due to their emphasis on quality as well as on the many unique flavors you simply cannot find anywhere else. The lavender mint flavor is an unwashed shisha, meaning it packs a pretty heavy punch in the nicotine department. The most noticeable flavor is the cooling mint, with just enough lavender to cut the sweetness and give you some floral undertones not found in many shisha's. A truly unique and flavorful smoke, you'll have a hard time going back to other flavors after a few puffs of this fantastic blend.
Ugly Hookah Orange Keef Shisha
Your mouth will start watering as soon as you unscrew the lid of this very popular hookah tobacco we mentioned in a pervious post. Having hands down the best orange citrus aroma on the market, it's no wonder Ugly Hookah is becoming more and more popular in the tobacco community. The smoke has a perfect balance of tartness and sweetness, with a smooth finish that will leave you wanting more. This shisha has a high nicotine content, which may make it a bit overwhelming for smokers new to the art; this can be combated if you mix it with a nice mint or vanilla tobacco with a lower amount of nicotine.
Southern Draw Kudzu
Southern Draw was founded by U.S. Veterans in 2015 and has quickly been growing in popularity throughout the U.S. All Southern Draw cigars are made from Cuban seeded tobacco grown in Nicaragua, and are guaranteed to have a "perfect draw" while being smoked. Spice, cedar, and cocoa flavors have been married together perfectly, making for a very enjoyable smoke you'll be wanting to try again and again. A nice IPA or single barrel bourbon would pair excellently with this cigar, making it a good pick for a night out on the town or a night in on the patio.
Montecristo '80th Anniversary No. 2′ Cigars
Eighty years is a long time to stay on top in the cigar world, but Montecristo has managed to do so, and has released these premium cigars to celebrate. The seeds used to grow this tobacco were brought out of Cuba during the revolution, and planted in the Dominican Republic by the refugees that founded the company. These particular tobacco's are highly susceptible to mold and disease, which make them a rare and highly sought after filler due to their low annual yields.  With a Ecuador Sumatra wrapper , Dominican Olor 2010 binder, and a long-filler blend of perfectly aged Dominican Piloto, Nicaraguan Criollo '98, and Nicaraguan Corojo '99 tobacco, this is arguably one of the finest cigars Montecristo has ever released. Flavors of nuts, cedar, caramel, and a mild hint of leather are found in the smoke; which is drawn impeccably through the box pressed body of this exquisite cigar. While $22 may seem like a steep price for a single cigar, you are getting what you pay for, and what you are getting is a piece of cigar history.